Firmado acuerdo de colaboración con Aficca y Donación equipos informáticos.
Source:
Ibercivis
vendredi 12 avril 2013 10:40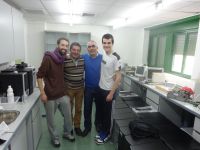 La Asociación para el Fomento de la Investigación Científica en Casa (Aficca) y la Fundación Ibercivis han firmado un acuerdo de colaboración, con el objetivo de llevar a cabo iniciativas conjuntas, en el ámbito de la computación voluntaria y de la ciencia ciudadana.
Con este acuerdo se fomentará el desarrollo de actividades que traten de involucrar al mayor número posible de participantes en la computación en red así como en la e-ciencia. Al mismo tiempo, el trabajo cooperativo de ambas instituciones pretende dinamizar los servicios prestados a la comunidad científica a través de internet.
La colaboración entre la Asociación Aficca y la Fundación Ibercivis ya existía previamente a este convenio, por lo que la firma de este acuerdo ratifica la estrecha relación que existe entre ambas entidades y el interés mutuo por trabajar en proyectos comunes, con la pretensión de eliminar barreras entre la comunidad investigadora y la comunidad de voluntarios.
Fruto de este convenio, se ha producido la donación de treinta equipos informáticos procedentes del Centro de Proceso de Datos del BIFI de la Universidad de Zaragoza, dado que habían sido sustituidos por otros equipos, a la Asociación Aficca, al objeto de crear un Centro de Computación dedicado permanentemente a procesar en proyectos de computación voluntaria como los ya existentes de búsqueda de medicamentos contra el cáncer, sida y otras enfermedades, estudio del cambio climático y mejoras de la eficiencia energética, entre otras.
La Fundación Ibercivis es una institución de experiencia reconocida en el ámbito nacional e internacional entre cuyos fines está crear, desarrollar, impulsar y consolidar la plataforma ciudadana de computación, denominada Plataforma Ibercivis, basada en la unión de equipos informáticos de hogares e instituciones públicas y privadas, aportados voluntaria y desinteresadamente para dar servicio a la comunidad científica a través de Internet, de manera que puedan realizar todo tipo de cálculos que individualmente no serían posibles.
También encabeza proyectos europeos, en el nuevo paradigma de 'ciencia ciudadana' al objeto de despertar el interés por las investigaciones y creando de esta manera un activo vínculo entre ciencia y sociedad.
Por su parte, Aficca es una asociación sin ánimo de lucro cuyo principal objeto es la divulgación de la computación voluntaria y la ciencia ciudadana entre la sociedad. Única en su categoría, desde Aficca se asesora a instituciones públicas y privadas para que puedan iniciarse en esta forma social de colaborar con la ciencia.
Este acuerdo de colaboración ha sido suscrito por el Presidente de la Asociación Aficca, D. Rafael Hens López, y el director de Ibercivis, D. Alfonso Tarancón Lafita.
Happy Birthday, Constellation! We're 2 years old!


Source:

Constellation@Home


vendredi 12 avril 2013 00:10



Hello everybody, we're now 2 years old and to celebrate this, we started this "Space Race - Yuri's Night" team challenge on Boincstats, that will be active soon. And you don't have to bring gifts for our party. We already got them, the best participants, you! And don't forget to honor the first man in Space, who orbited there 52 years ago. You can do that worldwide on one of the many parties, like Yuri's Night Stuttgart this weekend. Thank you all for you help! And don't miss Google Summer of Code, where you can code for us and will be financially supported by Google. The is still work to be done. The Constellation Team!


Milkyway@home paper Accepted for Publication!


Source:

Milkyway@home


mercredi 10 avril 2013 19:09



Hello Crunchers! "A Spatial Characterization of the Sagittarius Dwarf Galaxy Tidal Tails" This is the title of a paper using results from Milkyway@home, and has been accepted for publication in The Astrophysical Journal! You can find the preprint (unofficial pre-published version) on ArXiv (http://arxiv.org/abs/1304.1476). This paper analyzes the tidal debris of the Sagittarius dwarf Galaxy, and discusses the results in the context of other published papers. For background information, please see our Science Page Thanks to all of our Milkyway@home crunchers who made this paper possible, especially David Glogau, The Marvin Clan, and the Dudley Observatory for their significant donations (you've been thanked in the paper, too!*). This is just the first in what we hope will be a long string of Milkyway@home astronomy publications. We're working on the next publications right now! Cheers, Matthew N. *We'll contact you personally with more information as the paper gets closer to its official publication date.


Database Problem


Source:

FightMalaria@Home


mercredi 10 avril 2013 14:50



Hi guys, One of the tables in our task database has been corrupted. As a result we will be down for at least a few hours while we restore from a recent backup and ensure that we aren't missing anything. We will be back up and running soon. Thanks, Kevin